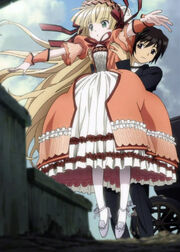 Show in: Closing Credits for Unity.
Shaped like upper half of a hot-air balloon, this dress by Victorique is one of a few dresses she wore for the closing credits for Gosick. The outfit is mainly composed on orage and white colored garments.
This outfit, like many of Victorique's dresses, consists of two garments worn as one. The white dress is made up of a tight-fitting blouse and a skirt that baloons outward. Meanwhile, the orange garments worn on top of it is composed of an orange blouse with bell-shaped sleevs and a similarly colored skirt that partially covers the white dress. On the picture, Victorique also wears an orange headband, white hosiery and heeled shoes.
Based on how tight the dress fits on Victorique and the curvature on the skirt itself, it can be assumed that she wore a corset and a crinoline in the picture.
Community content is available under
CC-BY-SA
unless otherwise noted.